SEND Home Learning Resources
We realise that it's very difficult at the moment for parents of children with a Special Educational Need or Disability to ensure that children are getting what they need. Hopefully they are able to access the work on their year group page but to help target specific areas you will find below websites and activities that you can use to support your children. This is only if you would like to, there is absolutely no pressure to do extra but it is there if you want it. Please feel free to access work from any of the year group pages if you think the content will be more suitable for your child. As long as your children are healthy, safe, having fun with you and doing a little daily Maths and English/Phonics they will be learning.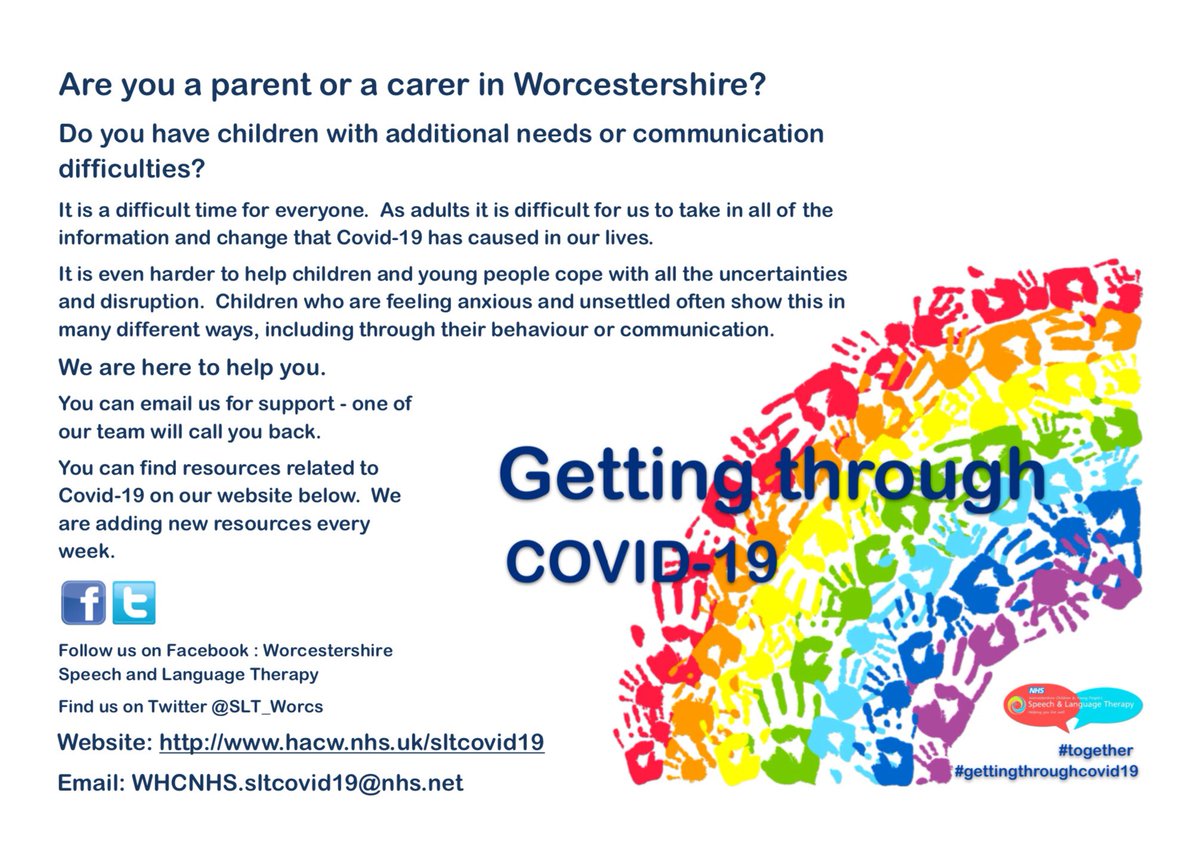 ---
Chatter Pack has produced a list of useful resources for Schools and parents to use to support SEND needs at home https://chatterpack.net/blogs/blog/resources-list-for-home-learning
These apps and games have been recommended by Worcestershire County Council as offering good support for children with specific needs. (Apps must be downloaded onto a compatible device)
Brain Parade
Website: http://www.brainparade.com/products/see-touch-learn-free/
Description: a visual instruction app, including flash cards and picture-choosing games, for children with autism and special needs.
HelpKidzLearn
Website: https://www.helpkidzlearn.com/
Description: a collection of games and resources designed for a range of educational needs and stages. It includes provision for school closure.
Sensory App House Ltd
Website: https://www.sensoryapphouse.com/
Description: a range of apps are available for pupils with Profound and Multiple Learning Difficulties (PMLD) or Severe Learning Difficulties (SLD). All are interactive and many do not require significant coordination abilities.
Visuals2Go
Website: https://www.visuals2go.com/
Description: an all-in-one app created to support people with communication and learning difficulties. For verbal and non-verbal learners.
---
Speech and Language Support Materials
There are many resources available from the Hereford and Worcester speech and language team who have recently published activities specifically to support parents while home learning. This can be found here https://www.hacw.nhs.uk/childrens-speech-and-language-resources/
Speech link media is another fantastic Speech and language resource that is now providing support that parents can access from home through the parents portal which you can find here https://speechandlanguage.info/parents
---
Maths Support Materials
There are many online sites offerning free support due to these difficult time
Carol Vorderman is one of those find support for teaching all elements of maths here https://www.themathsfactor.com/
There are creative ideas for covering Maths herehttp://www.first4maths.co.uk/product-category/free-resources/
Lego is a fabulous resource for supporting Maths at home. You can use them to make 10 sticks and single blocks as ones the same as the school dienes we use. They are brilliant for part part whole and the bar model. Ideas of how to use them can be found herehttps://www.scholastic.com/teachers/blog-posts/alycia-zimmerman/using-lego-build-math-concepts/ and more here https://www.weareteachers.com/lego-math/

Sometimes learning things in different ways can be very effective dancing and singing to Jack Hartman on YouTube can help to consolidate counting and key facts such as times tables and number bonds. https://www.youtube.com/channel/UCVcQH8A634mauPrGbWs7QlQ
He also covers phonics and reading tricky words with music and movement.
Memory Resources
Children are introduced to new, abstract concepts that require them to store information in both their short and long term memories – letter sounds, sight words, multiplication tables, historic dates, the periodic table and so much more. Which makes memory skills pretty important in the scheme of things! Therefore if memory is an area of difficulty it can be a pretty big barrier. Luckily it is also one of the easiest areas to play games and help build these skills in a fun and enjoyable way!
Here are 9 memory games you can play with little extra resources needed:
1. MEMORY/CONCENTRATION

A deck of children's matching picture cards or simple playing cards easily becomes the classic favourite game of Memory.
To play
Ensure your set of cards contains all matching pairs.
Shuffle and spread all cards out on a flat surface, face down.
Players take it in turns to choose any two cards. Make a successful match and you get to take another turn. No match, the cards are returned to their original position.
Success in Memory relies upon children remembering where they have seen each picture in previous turns – both those and those of the other players.
The winner is the person who has matched the most pairs.


Variation
With younger children, play Memory by mixing up and placing face down the pieces to simple matching 2-piece puzzles, encouraging your child to find the two pieces that make up one puzzle.
2. WHAT'S MISSING?
To play
Place a number of household items onto a tray (the more items, the more challenging the game so for younger children start with just 3-4 items and increase from there).
Tell your child to have a close look at the items on the tray. Name them together (the more you discuss the items the more likely your child is to remember them so you could ask them what colour or shape each item is or what it is used for).
Cover the items with a tea towel. Ask your child to close their eyes and as they do so remove one item from under the cloth.
Ask them to open their eyes, remove the cloth and tell you what's missing!
Variations
For older children, use more items and allow them to look at them for a full minute. Then cover them up and ask them to write a list or draw as many of the items that they can remember.
3. I WENT SHOPPING…
The aim of the game is to remember as many items purchased at the shops as possible!
To play
The first player starts the game by saying, "I went shopping and bought a ____," identifying an item they would buy.
The second player continues, "I went shopping and bought a (names the first player's item) and a ___ (adding a new item to the list)."
Players continue taking turns to remember the items purchased in order as the list gets longer and longer. The winner is the last person who can correctly name all of the items in sequence.
Variations
This game can be adapted to many different scenarios, for example, "I went on holidays and packed…" or "I went to school and took …"
You can also adapt the game for children familiar with letters of the alphabet by requiring players in turn to name an item that begins with each letter of the alphabet. Player 1=A, player 2=B, player 3=C, etc.
4. THE MAGIC CUP GAME
A classic circue trick game that children love to play, expecially when it's their turn to try to trick you!
To play
Place three identical, plastic cups in a line on the table, rim down. Place a pom pom or small rubber ball under one cup, allowing your child to see which cup the pom pom/ball is under. Shuffle the cups around by sliding them across the table, switching their positions quickly back and forth and all around. Once you have stopped moving the cups ask your child to identify which cup the ball is now under.
6

.

DRAW A WORD ON MY BACK
Success in this game requires the child to transfer a physical sensation to a mental picture and retain a short series of mental pictures in their head to correctly identify the word.
To play
One player uses their finger to 'write' a word on the back of the second player. The second player tries to identify the word. Players switch positions and take turns being the 'writer' and guesser.
7. NUMBER STRING
Similar to The Shopping Game, using numbers makes this game more abstract and therefore more challenging. Perfect for older kids!
To play
The first person says a one digit number. The next player repeats the first number and adds another one digit number. The third person says the first and the second numbers and then adds a third number. The game continues until someone forgets a number. That person is out. Play continues and the winner is the last person standing – the person able to correctly identify the longest string of numbers.
8.TOTAL RECALL
To play
Display a series of pictures or words for a few seconds. Cover the images/words and have children write, draw or tell a partner the objects in correct order.
Make the game more difficult by increasing the number of items in the series.
9. CARD RECALL
To play
Played in pairs, five cards are placed in a series on the table (these can be playing cards or other picture or word cards). One player is given time to memorise the sequence. Then their partner takes the cards, shuffles them and places only four of the cards back on the table. The first player must identify which card is missing.
---
English & Phonics support materials
Nessy is an excellent resource that we have used in school and seen make a big difference to some children. They are currently offering free trials. You can have a look at what they have to offer here https://www.nessy.com/uk/ they are currently offering a free trial
Phonics Phase 2 catch up looms by Miss Miller
satnip set 1 sounds https://www.loom.com/share/8bde66de46c141fdaf8a83372fd10285 password astwood1
gmdock set 2 sounds https://www.loom.com/share/754e2c55364a4188b38126258f527acd password astwood1
Learning spellings can be very tricky, mnemonics can help some children. See if you can make your own. They are even more likely to stick in their memory if they have created them.
---
Extra websites to access for specific areas of need
ADHD Parenting Tips Learn what you can do to manage your child's behavior and deal with common ADHD challenges. How to help your child with ADHD. Life with a child or teen with attention deficit hyperactivity disorder (ADHD or ADD) can be
This unprecedented period of change and disruption is very difficult for many autistic people and families. We have created some tips that we hope will help you.